Last time I posted, I talked a little about the two basic functions of art, at least how I see them. Broadly stated, art (and by extension, literature) can be viewed as having two primary and often conflicting goals:
1. To entertain us and provide an escape
2. To unsettle us and prod us to action
If you want to read more of the initial discussion, go
here.
In that post, I talked about how most books straddle the line between escapism and unsettling content, but then promised to talk about two books that had a profound impact on me, largely because they didn't bother walking the tight rope. Today, we're dealing with one of the most escapist novels I have ever read, and one that I deeply needed.
THE CONTEXT:
When I graduated from my undergraduate degree, I was burnt out. I`d spent the last five years reading anthropology and philosophy textbooks and squeezing in writing on the side. I knew I wanted to write fiction. The only problem was that I wasn`t reading it. In fact, once my undergrad wrapped up, I wasn`t reading anything.
This went on for a year and a half. I just couldn`t get excited about books like I used to. Nothing I read woke me up. Gradually, I got into such a rut I worried I`d never find that spark again.
Plenty of people tried to help. If you write at all, people LOVE to suggest books to you. For example, my sister was desperate to get me to read Wuthering Heights, but I never made it through the first ten chapters. A friend lent me Darkwing, the next book in a series I loved, but I never opened it. I got Oliver Twist as a Christmas present around this time and it looks very pretty on my shelf. My sister-in-law recommended The Hunger Games, but I never picked it up. Yes, you read that right. I, Emily Paxman, declined to read the Hunger Games once upon a time.

And for every recommended novel I failed to get through, I became more and more discouraged. Books had been a part of my life since my earliest childhood. What did it say about me that I couldn't seem to connect with them any more? How could I expect to be a decent writer when I was a terrible reader?
So what did I need to get me out of my existential funk? What would rock me to the core and make me want to read again? Surely that book would be one of profound meaning and message! Or perhaps timeless characters and jaw dropping moral quandaries! WHAT COULD IT BE????
THE BOOK:
Three Men in a Boat (To Say Nothing of the Dog)
by Jerome K. Jerome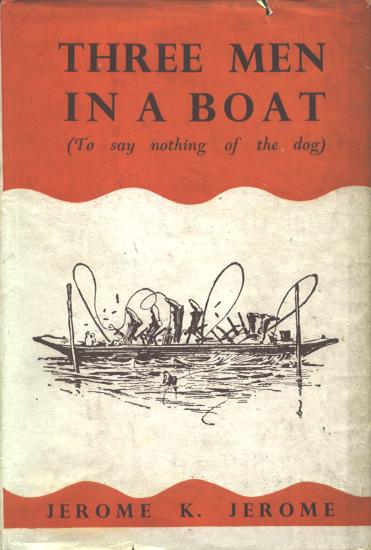 This is a book about three men. They decide to go camping along the Thames by rowing a boat up it. They bring their dog. At some point they eat beef pie and at another they give up on camping and rent rooms at an inn. Harris cannot sing a comic song.
If Seinfeld was the original TV comedy about absolutely nothing, it was still drawing from a legacy that included British humorists like Jerome K. Jerome. This is not a book to turn to if you're looking for deep, character driven, soul wrenching narrative. But it's sly and it's witty and, most importantly, it's enjoyable.
I was introduced to
Three Men in a Boat
by one of my roommates. She was sitting on her bed reading, and laughing out loud. She shared a quick passage aloud and then went back to giggling. It seemed to me to have been ages since I saw someone react to a book that way. I had to read it and it soon became the first book I finished in a year and a half.
WHAT MADE IT SO PERFECT
When I look back on that time, one quality united the books people recommended to me that I couldn't bring myself to read:
Every last one of them was depressing
. These books came with endorsements like, "
The Time Traveler's Wife
is so good! It absolutely DESTROYED me!"
Sometimes we want to be destroyed by a book. Sometimes we need to be. Heavy, topic-driven, important books are... well,
important
. But in the haste we have to read in order to become better people, sometimes I think we forget the need to read because we enjoy doing it. What about reading because we're in need of a good laugh? Laughter is, in my mind, one of the major hallmarks of escapism. It drives both children's fantasy films and those cat videos on youtube. Laughter is also profoundly comforting, which is why it's often used to sugar-coat difficult truths. And yet a work of fiction that endorses laughter above all else is generally treated as less than something that doesn't.
Art criticism in our culture is overwhelmingly in favor of tragedy. Comedies don't win the Oscars.
Hamlet
,
Romeo and Juliet
and
Macbeth
are treated with more reverence than
Twelfth Night
or
Midsummer Night's Dream
. Who wants to give accolades to a play that admits it is
Much Ado About Nothing
?
Books can be trickier to define as comedy or tragedy. By virtue of being longer, they often contain both humor and drama. Still, there's clearly a difference between
Confessions of a Shopaholic
and
Bleak House.
(Hint: One has the word "Bleak" in the title!)
I don't pretend to know how comedy and drama stack up against each other as competing forms of "art." Personally, I think TV land might be the one place where the two genres are handled properly. The Emmy's make a point of awarding both types of shows separately, as do the Golden Globes. But the moment someone hands out an award for "best" movie or "best" book, you can bet that tragedy is going to take a flying leap to the head of the pack. And it's such a shame because frankly, good comedy is very hard to write. We'll watch soldiers die on a battlefield over and over again, but we don't like hearing the same jokes twice. There's intense pressure to be innovative in comedy, often more so than in drama.
Now truthfully, I agree that there is a LOT of not-funny comedy out there, which is why books and films that actually make me laugh are such a treasure. Laughter stirs my soul in a way that is totally different from drama, and often far more poignant. For me to really like a drama, it tends to need a good sense of humor. It's no coincidence that my favorite musical,
Into the Woods
, builds towards its emotional climax with some of the funniest songs Stephen Sondheim ever wrote.
And even though it often claims to be about nothing, good comedy requires a keen understanding of human nature.
Three Men
is in turn both very realistic and very escapist. Jerome perfectly captures what it's like to do the most mundane of things, like set up a tent, or bump into lovers at a party. His comedy is shrewd and barbed. The book doesn't exactly have a message, but it has anecdotes that make you reflect on the ego and hypocrisy of ordinary people. This might not seem like much, but it means a great deal to me.
Most importantly, I want to point out that I am not alone. There are lots of people who want to laugh more than anything else. And like me, they are probably shorter than you. This link (
link!!!
) leads to a study conducted by Scholastic into what children want most from books. While it does change somewhat over time, across all age groups, kids are looking first and foremost for "books that make them laugh." Yes, whether your child is 6 or 16, they want a funny book.
Also of note: Parents do
not
rate the ability of a book to make their child laugh as highly. The stat is not rock bottom low, but it doesn't reflect the interest kids have in laughing. To add to that, 73% of boys and girls state they would read more if they could find more books they liked. I take that to mean that kids would read more if they could find more funny books. Wouldn't it be great if we made it easier for them to find some? If maybe we handed out Newberry Awards to silly books, and not just issue drive ones? I'm not saying we ditch the issue books, but reading as a whole might benefit if we made it more
fun
.
Three Men in a Boat
helped me get over a tremendous mental block in my life, and it did it mostly by being hilarious. When I finished, I felt intense relief that I was reading again. And with that, I reached for more.
Maybe you have someone in your life who you is looking for a good book. Maybe it's your child, and you desperately want to encourage them to read, but it just doesn't seem to take. Well, if it's true in showbiz, it's true in print. Make 'em laugh. You might just find them coming back for more.